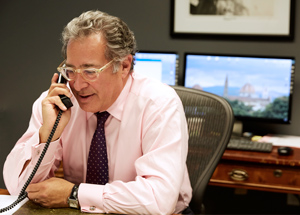 Len's experience as a commercial litigator as well as his work counseling long time clients, including businesses and individuals, has provided an excellent foundation for his work as a mediator. Len strives to help clients avoid the excruciating pressure, both emotional and financial, involved with extensive litigation and works to achieve resolutions through negotiation and mediation. Len was among the first group of lawyers to complete mediation training through the United States District Court for the Southern District of New York and has attended mediation training sessions under the auspices of the New York State Bar Association. He has participated in many mediations as an advocate and also as a mediator. Examples of cases in which Len has served as a mediator include:
business, partnership and close corporation dissolutions (law firms, medical practices, family-owned businesses)
termination of employment disputes, including employment discrimination, bonus disputes, wage-and-hour claims
disputes involving the ownership and development of real estate
Len will work with clients and their counsel to structure a feasible and affordable mediation process that will maximize opportunities for settlement.